INDIA IS A LAND OF DIVERSITY, WHICH IS
EASILY VISIBLE IN ITS PEOPLE AND EVEN
THEIR CULINARY TASTES. WHILE EVERY
SEASON IS IDENTIFIED WITH CERTAIN
FOOD ITEMS, NOTHING COINCIDES BETTER
WITH MONSOONS THAN GHEWAR
GHEWAR,
THE TASTE OF
SAWAN
Khamba Ghani! The taste of Rajasthan awaits you, and what's better than if it is available in the centre of the city. In this monsoon season, Rajasthani cuisine is fast making its way into the hearts of Lucknowites with the special taste of the traditional Rajasthani ghewar. The credit for this can be given to Madhurima Sweets, a traditional establishment in the city.
It has been a long-standing tradition for married women to visit their parent's homes during the monsoon season. At this time, the Rajasthani Marwaris, in particular make it a practice to send boxes of ghewar to their in-laws house through the hands of their daughters as a shagun, popularly known as sindhara.This rainy season, this traditional practice of Rajasthan is being adopted by residents of Lucknow as well. Again, this rising trend can be attributed to the sweetness of the ghewar being made by Madhurima.While there may be numerous sweet sellers in Lucknow who deal with the production and sale of ghewar, for them it might be just a business. The heart and soul that Madhurima Sweets pours into ensuring that the ghewar it sells has the original Rajasthani touch is hard to match for even the best.
HOW MUCH YOU PAY?
Kesaria Malai Ghewar ₹ 800 per kg | Kesaria Medium & Baby Ghewar ₹ 860 per kg
Srajal Gupta, managing director, Madhurima Sweets, said that, "The practice of giving ghewar to daughters at the time of their bidaai is considered to be auspicious by Rajasthani Marwaris. It is only recently that even Lucknowites have started aping this practice. To ensure that there is no change in the original taste and form of the sweet variety, Madhurima Sweets closely follows the original method of making it."
One of the reasons that the sweet is sent to one's in-laws place at the time of a daughter's bidaai is so that relationships remain as soft and sweet as the dish. People love to eat ghewar due to its innate soft texture, which become even more apparent during the rainy season.
Talking about the reason why that the demand for ghewar increases during the monsoons, the first reason is that festivals such as Teej and Raksha Bandhan fall at this time. Family members consider it auspicious to give ghewar as a shubh gift to each other. Secondly, in the rainy season, the taste of ghewar alters considerably, offering consumers a variety of tastes. The best part about this sweet is the numerous varieties that are available in the market, including simple, kesar, khoya, paneer, malai, and kesariya ghewar, all of which have a unique taste. In addition, the sweet is decorated so gaily that one salivates at the mere glimpse of a ghewar box. This sweet is also quite affordable. With each kg costing anything between ₹800 to 860, its sale goes soaring during the monsoon season.
Madhurima Sweets, which is located at Gomti Nagar – Vibhuti Khand, Patrakarpura and Raebareli Road has reached new heights, thanks to the variety of taste and delectable sweets it has on offer. Apart from ghewar, the enterprise has numerous other sweets on offer, both new and old. Madhurima is specialising in presenting all its wares in a unique manner, which attracts customers in plenty. Apart from sweet items, the most recent addition of kachori ki thal here has become a pulling factor for many, especially at breakfast time. Evening snacks that are offered here include chaat items such as gol gappe, basket chaat and papdi chaat.include chaat items such as gol gappe, basket chaat and papdi chaat.
Atithi Devo Bhava is the motto followed at Madhurima Sweets. From the owner to the workers, everyone places the customers' needs and requirements at top priority. Extremely successful in the genre of sweets, Madhurima Sweets is a vegetarian restaurant that offers numerous cuisines. They have also ventured into 100% vegetarian M & H Bakery (Milk and Honey), selling freshly baked delectable bakery products.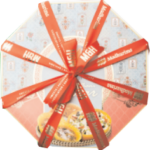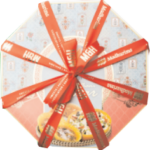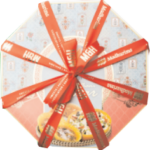 Srajal Gupta, managing director, Madhurima Sweets talks about the shop and its unique association with ghewar
Sawan month has an age-old tradition, wherein men send their sisters and daughters to their in-laws house with a box of ghewar, which is considered an auspicious practice
Q: Many sweet shops make ghewar. What is special about yours?
A: In our shop, the specialty lies in the preparation of ghewar, for which we use special vessels so that the traditional Rajasthani taste is maintained.
Q: Why is ghewar famous in monsoon season?
A: Though ghewar is made twice in a year, once during Maha Sankranti and secondly during the monsoon season, it is most in demand during the month of sawan due to Raksha Bandhan and Teej festivals. Also, rains give the perfect texture to this sweet.
Q: How many types of ghewar are there?
A: We have four types of ghewar, among which kesaria and malai ghewar are the most popular.
Q: Is the packing done in a special way?
A: Special sweets are not packed in an ordinary manner. They are packed in a special manner and round packing is also available for the special ghewar.
PROCEDURE TO MAKE GHEWAR
Even today, Madhurima Sweets is adopting traditional methods of making sweets and salted items, which includes the use of a traditional old coal bhatti to make the ghewar. Lohande (a special kind of kadhai) is used to make the ghewar. Ingredients that are used in production of the sweet includes flour, brown sugar, milk, and ghee, all of which are cooked in the lohandi on a coal flame at slow heat till it comes to its correct form. Once the cooking procedure is complete, it is decorated with nuts and other items. It is only post this procedure has been completed that one can find the boxes of ghewar they can buy from the counter
MONSOON DELICACY
■ Home delivery facility available
■ No extra charges applicable
■ Packing in attractive boxes, as desired
■ Special packing for ghewar available
■ Courier facility also available